Do You Cycle or Mountain Bike?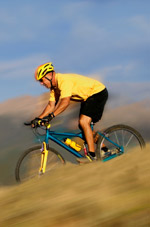 Research shows cycling as one of the most repetitive sports;
It could be unanticipated for many cyclists that the number one problem most observed with cyclists is the often overlooked - poor leg alignment (foot, knee, and hip).
Peddle (Power) Transmission
The foot and ankle is the crucial energy transmission system and its efficiency as a rigid and stable lever is very significant. All the power and energy developed by the legs and body needs to be transferred as efficiently as possible through the ankle process. If the foot is positioned in a neutral and locked stance at the beginning of the down stroke, the forces can pass directly through the skeleton and joints of the feet directly into the pedals. With mountain biking . . . It's no surprise that balancing and pumping the pedal while routing the trail would be more challenging on flexible jointed feet which eat the energy and fatigue the legs.
DownUnders Cycling Orthotics position the foot's rear, mid, and forefoot in a stabilized neutral position maintaining optimum athletic foot integrity throughout every point of the down and up stroke.
Low Profile Design
Improves comfort
Increases power
Better alignment
Reduces knee and foot pain
Improves balance
---
Testimonials from Bikers
"I used the DownUnders Cycling Footbeds along the Continental Divide Route last Summer. Over 2600+ miles they kept my feet supported and pain free. They were simple to instal, I didn't even need to trim them, and because they are so thin they didn't change the volume of the shoe noticeably. Great product and one I can highly recommend."
Owner Tognar Toolworks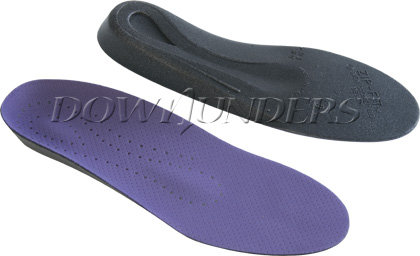 Insoles Model: Thinsoles - TO1
Top Cover: Moisture resistant
Core: P.E. Foam
Stabilizer: None
Inserts: None
Profile: Low
Sizes Available: Mens 3 - 16 and Womens 2 - 12
---
Product Review
The Bulletin
Footbeds offer comfort, support
DownUnders come in a variety of styles
By Scott Staats
The Bulletin
I've learned at least one thing while out hunting or hiking – the ground is rarely soft or level.
I can handle the animals giving me a beating, but my feet aren't as forgiving. When your feet are comfortable, you can stay in the field longer and have a more enjoyable outing.
There are many kinds of footbeds and insoles available but most insoles are nothing more than squishy little sponges with a half-life of a wet paper bag. The stiffer footbeds make your feet conform to a pre-molded shape and create more pain.
DownUnders made by Walkabout International in Sunriver, are made with EVA and natural cork stabilizers. These light-weight, durable footbeds actually self-mold to your unique foot shape and also wick moisture away from your feet. They are available in men's sizes 3 to 16 and women's sizes 2 to 12 and can be trimmed to fit any shoe or boot.
There are six styles of DownUnders, depending on the type of activity or sensitivity of people's feet. An arch support custom aligns the foot's arch with every step while a deep help cup absorbs impact shock. The footbeds are made in Italy, which is renowned for making the best footwear in the world. DownUnders retail for about $43. They are available at Walkabout International
Or local outdoor or footwear retail stores.